The 2022 FONOM Conference will be held in North Bay,
May 9th, 10th, and 11th, 2022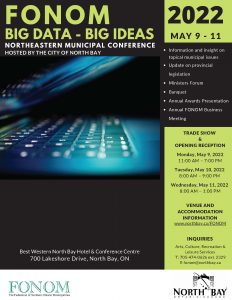 The FONOM Conference is SOLD OUT for delegate registrations, exhibitors, and the annual banquet!
Also included in this year's conference are displays from a selection of exhibitors and the opportunity to network and discuss leading practices with other municipal representatives.
Need a place to stay?  Book a hotel room at the North Bay Best Western by calling 705-474-5800.  Use booking code: FONOM
Registration Ends April 26 at 4:30 pm (Early  Bird April 8th, 2022)
To register and for more information visit:
For all conference inquiries, please contact the City of North Bay
Phone: 705-474-0400, ext. 2329
Email: fonom@northbay.ca
2022 Delegate Registration form
During the FONOM Conference Hosted by the City of North Bay in May, FONOM will be hosting a Northern Leaders Debate, with all four Leaders confirmed. The FONOM Board would like to solicit our members for debate questions they would like to have asked during the debate. We would ask that the question be submitted by Friday, April 29. The FONOM Executive Committee will review the questions for consideration. Please ensure the question is of regional importance.
Other planned Agenda Items for the 2022 FONOM Conference are;
Cultural Mindfulness, NWMO Safety Transportation plan, ONTC Shop Tour, Reception at Gateway Casino, MPAC Update, Insurance pricing explained, Banquet, AGM, a path forward for Mental Health, Homelessness, and Addiction, and an update from FedNor.
FONOM is going to start to host quarterly Learning Mornings for our Members. The Morning will include five 30-minute presentations, and we would hope the presenter will take questions from attendees inside that time frame. Our next morning will be on Wednesday, November 10th (Zoom link below), starting at 8:30, and we should be done just before 12noon. We plan to do the third morning on Thursday, February 17th, 2022. Previous Learning Morning Sessions are available on FONOM's YouTube Channel
FONOM Learning Morning – Wednesday, November 10th, 2021
Tourism Industry Association of Ontario
The government recognizes the Tourism Industry Association of Ontario (TIAO) as the voice of tourism. They advocate the importance of tourism as an economic driver and job creator to serve the interests of Ontario's diverse tourism industry and business community. At TIAO, they work on behalf of our membership, collectively representing 200,000 businesses and 400,000 employees.
MentorWorks
Canadian government funding programs can support small businesses, large corporations, non-profits, and post-secondary research institutions. However, the key to accessing these programs is knowing which ones provide the best fit for your organization and upcoming projects.
Ryse Solutions
A producer responsibility organization. If work with their customers – producers, retailers, manufacturers, and packaging suppliers – to help them understand and meet regulatory requirements. Their expertise and solution offerings expand across various materials, including tires, waste electronics and electrical equipment, hard-to-recycle packaging, and batteries.
Guaranteed Funeral Deposits
Founded in 1961, Guaranteed Funeral Deposits GFD prides itself on providing exceptional Member support, offering various tools, coaching, training, and services needed to maintain your cemetery.
Local Authority Services (LAS)
Local Authority Services (LAS) is a preferred provider of competitively-priced and sustainable cooperative business services for Ontario municipalities and the broader public sector. LAS helps communities work better. Services include Asset Services, Commodity Programs, Energy Services, and Digital Services.
Northern Ontario municipal politicians, senior municipal and government staff are the target audience for this conference, essentially the municipal decision-makers of today. Participation in the FONOM Conference as a sponsor is a great opportunity for suppliers, vendors, and professionals to reach our delegates and show your support for Northern Ontario.
For more information or to discuss sponsorship opportunities, please contact us.
The FONOM Trade Show is held each year during the Annual Conference in May. This conference normally draws around 250 people with the majority being mayors, reeves, councillors and rural municipal administrators. The show attracts many different companies, government agencies, and special interest associations for the benefit of the delegates.
The 2022 Trade Show will be held in North Bay.
We encourage your business to take the opportunity to meet the decision-makers of municipal goods and services in northern Ontario.
This section contains those companies and organizations that have assisted with FONOM's recent activities. On behalf of our Executive, Board of Directors, and Members, we thank you for your continued support!
Nelson Granite         Miller Waste              OFIA